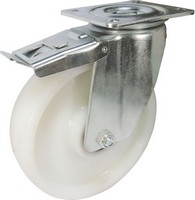 Industrial Castors - Heavy-Duty Nylon Wheel Swivel Plate Braked
Ideal for heavy-duty applications such as trolleys, lifting equipment & automatic gates. Good resistance to abraision, petroleum and chemical agents. Double ball race swivel action. Zinc plated pressed steel housing with swivel plate fitting. Total stop brake locks wheel and swivel.


številka naročila
dimenzije (mm)
Approximete
Load Capacity (kg)
Količina v pakiranju
cena/embalaža/kos
Cena za kos
D
AxB
ExG
C
F
H
L
R
S
491123
150
132x110
105x80
42
12
188
45
128
4
330
4 kos
42 EUR
66 EUR
491124
200
132x110
105x80
50
12
2
59
158
5
600
2 kos
52 EUR
81 EUR

Prices are without VAT. If specified order number, please, it will add it to the selected type of goods. We will be glad to send you any quantity.