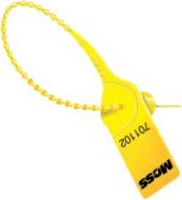 Lock Pulls
Polypropylene
Extra security provided by acetal locking mechanism. Bag grip spikes provide extra security when sealing bags. Supplied with tear-off feature. Stocked with unique serial number.
številka naročila
Tie Size (mm)
Color
Količina v pakiranju
cena/embalaža/kos
Cena za kos
dolžina
premer [mm]
SECURE-1301
250
3,7
Yellow
1000 kos
0,5 EUR
0,82 EUR
SECURE-1302
300
3,7
Red
1000 kos
0,52 EUR
0,86 EUR
SECURE-1303
350
3,7
Blue
1000 kos
0,57 EUR
0,94 EUR

Cene so brez DDV in veljajo pri plačilu po povzetju.